Porcelain Onlays & Inlays
Need emergency dental? Call for a same day appointment.
A natural looking alternative to fillings
PORCELAIN ONLAYS & INLAYS IN FAIRFIELD
Porcelain onlays and inlays are a suitable method to treat large cavities when they are more severe than what a filling can suitably treat, but less severe than a requiring a new crown.
They are more durable than an ordinary filling and are specifically manufactured by a ceramist. These are then bonded securely to the damaged teeth.
What are porcelain onlays and inlays?
A porcelain inlay or onlay is similar to a filling, but instead of being built up in your mouth, it is constructed indirectly from a model of your teeth. Making it outside the mouth means materials can be used that would not be possible in the mouth, making an inlay or onlay more durable. The inlay or onlay is then bonded securely to the damaged teeth.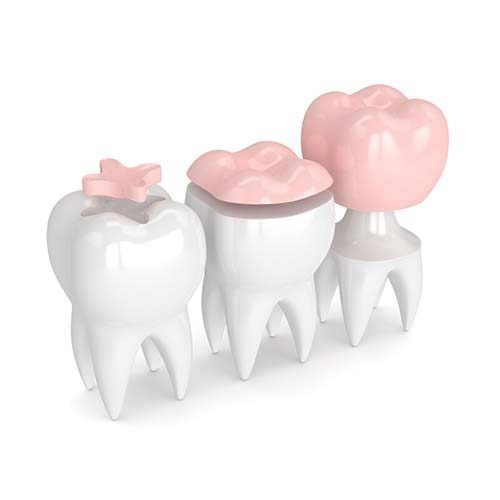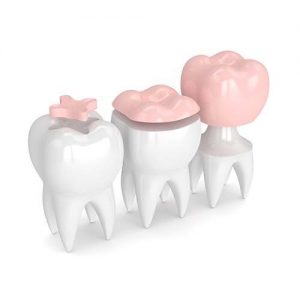 When is a porcelain onlay or inlay used?
An onlay or inlay is generally necessary when a pre-existing filling has failed. This is to fill what will be a larger cavity left behind. The primary goal is to salvage natural tooth structure. By protecting the remaining tooth structure and providing the necessary support this helps avoid the need for a replacement crown.
What is the difference between onlays and inlays?
There is a basic difference between porcelain onlays and inlays. An onlay is typically used when the cavity is shallow and broad, usually towards the exterior of the tooth. An inlay is used on cavities inside the tooth and are inserted into the centre of the tooth and bonded to it.
THINK YOU NEED A  PORCELAIN ONLAY OR INLAY?
Get a professional assessment with our trusted dentists to improve your oral health and prevent further decay.
How do I protect my new porcelain onlay or inlay?
By following good oral hygiene practices, a proper diet, and regular dental visits you will preserve the life of your new onlay or inlay and help to prevent the need for a full dental crown in the future.
How much do onlays and inlays cost?
Each onlay and inlay is different based on the shape of your teeth. We also use different materials and ceramicists. Perfect Dental will always be the most affordable family dentist in Fairfield.
Cosmetic Dental Crowns
Can a Crown Be Used for Purely Cosmetic Purposes? If you're not happy with the way your teeth look, you may be considering a dental crown as a means of getting the smile you've always wanted. And although it's fairly common knowledge that dental crowns…
Mouthguards FAQ
What Is A Mouthguard? A mouthguard is a plastic cover that fits over and protects your teeth from collision or impact. They are most often utilised in sports that involve a high risk of impact to the face, but can also be used to help…
How Dental Implants Are A Dentistry Game Changer
When patients hear the term dental implants, they usually associate it with lengthy and painful—not to mention expensive—treatment. But the truth of the matter is there are a number of different uses for implants — and not all of them require you to spend hours…