Porcelain Onlays & Inlays
A natural looking alternative to fillings
Porcelain Onlays & Inlays in Fairfield NSW
Porcelain onlays and inlays are a suitable method to treat large cavities when they more severe than what a filling can treat but less severe than a crown.
What Are Porcelain Onlays And Inlays?
Porcelain onlays and inlays are a suitable method to treat large cavities when they are more severe than what a filling can suitably treat, but less severe than a requiring a new crown.
They are more durable than an ordinary filling and are specifically manufactured by a ceramist. These are then bonded securely to the damaged teeth.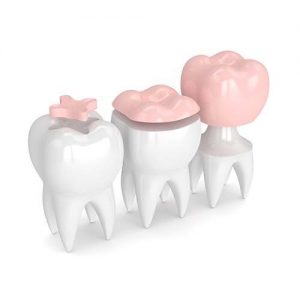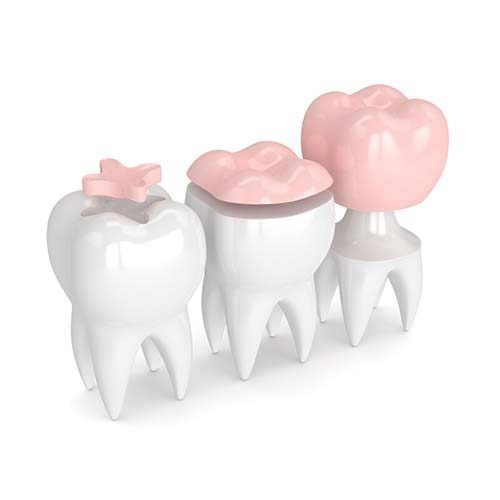 When Is A Porcelain Onlay Or Inlay Used?
An onlay or inlay is generally necessary when a pre-existing filling has failed. This is to fill what will be a larger cavity left behind. The primary goal is to salvage natural tooth structure. By protecting the remaining tooth structure and providing the necessary support this helps avoid the need for a replacement crown.
What Is The Difference Between Onlays And Inlays?
There is a basic difference between porcelain onlays and inlays.
Onlay - typically used when the cavity is shallow and broad, usually towards the exterior of the tooth
Inlay - used on cavities inside the tooth and are inserted into the centre of the tooth and bonded to it
Think you need a porcelain onlay or inlay? Get a professional assessment with our trusted dentists to improve your oral health and prevent further decay.
How Do I Protect My New Porcelain Onlay Or Inlay?
By following good oral hygiene practices, a proper diet, and regular dental visits you will preserve the life of your new onlay or inlay and help to prevent the need for a full dental crown in the future.
How Much Do Onlays And Inlays Cost?
Each onlay and inlay is different based on the shape of your teeth. We also use different materials and ceramicists. Perfect Dental will always be the most affordable family dentist in Fairfield.
Porcelain vs. Composite Veneers
There are advantages and disadvantages to both types of dental veneers – porcelain and composite resin. Dental veneers may offer a viable cosmetic option if you have chipped, stained, gappy or misaligned teeth. The thin laminate shells are shaped and contoured to precisely cover the…
Our Response to the Coronavirus (COVID-19)
To our lovely patients of Perfect Dental, we wanted to share an update with you about our ongoing commitment to you, your family and loved ones throughout this challenging time. We are open for business Your health and well-being are our number one priority during…
How Does Fluoride Help Protect Teeth?
The most effective means to protect teeth and avoid tooth decay is through the ingestion of fluoride. Fluoride is a mineral that humans gain from almost all food and water they consume. For over fifty years, professional and health organisations have endorsed the health benefits of…