Custom Mouthguards Fairfield
Need emergency dental? Call for a same day appointment.
CUSTOM MOUTHGUARDS IN FAIRFIELD NSW
We have a passion for sport in the local community. That's why we believe in protecting your mouth and teeth in the best way we can with custom mouthguards.
What is a mouthguard?
A mouthguard is a thick, often spongy shield that fits over your teeth. Mouthguards are usually worn during sports and other activities that involve a high risk of impact to the face.
They can be helpful outside of sports too. For instance, you might need to use a specialised mouthguard for jaw issues or teeth grinding. Dentists sometimes use special types of mouthguards to help treat snoring or sleep apnoea as well.
When should I wear a mouthguard?
Mouthguards should be worn during games and training. Basically, it's best to wear a mouthguard any time there's a risk of impact to your face. Sports Medicine Australia and the Australian Dental Association recommend that regardless of whether the sport you play is considered a 'contact sport' or not, you're encouraged to wear a mouthguard any time you're on the field.
What types of mouthguards are there?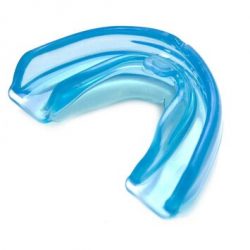 Generic stock mouthguards
These are the cheapest mouthguards available and are preformed to loosely fit over the teeth of most people. While their cheap price might seem appealing for the casual player, these offer the least amount of protection and their one-size-fits-all design means that it can fit poorly and be uncomfortable.
Since each tooth is not seated properly in the guard and sits within a channel, an impact has the possibility to cause damage to multiple teeth.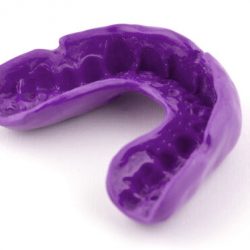 'Boil and Bite' mouthguards
Made from deformable medical grade plastic or silicone, a boil-and-bite mouthguard is made malleable by soaking it in boiling water. The mouthguard, now softened, is placed within the user's mouth for them to create a mould of the teeth and mouth.
While these types of mouthguards are relatively cheap upfront, they will most likely have to be replaced every season. They are also usually not close enough to conform to the user's bite and can be uncomfortable to wear due to their thicker sidewalls.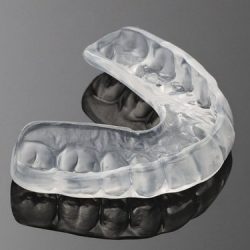 Custom dental mouthguards
Custom dental mouthguards, as the name suggests, are mouthguards made by a dentist or dentist technician to perfectly fit a person's mouth. Due to their close fit, they provide the best protection, comfort and shock absorption.
While these are the expensive option, an injury to the teeth or jaw will be a lot more expensive. Perfect Dental recommends custom mouthguards to anyone participating in sport, regardless of skill level, as they can be fitted to your liking, and most importantly, provides your teeth and jaw optimal protection.
DO YOU PLAY A CONTACT OR  HIGH IMPACT SPORT?
Get a professional assessment on a custom mouthguard to protect your mouth and teeth.
What makes a custom mouthguard superior?
Comfortable and tight-fitting
Allows for normal breathing and swallowing
Provides more even protection against impact
How much do mouthguards cost?
Cost will come down to the type of mouthguard you choose. Boil-and-bite mouthguards can cost anywhere from $5 to $80.
Custom-fitted mouthguards are more costly, averaging around $190 – $300. A custom-fitted mouthguard is like a type of insurance – if a player doesn't have protection but has a dental injury, dental and hospital costs are likely to exceed the cost (and time) of getting a custom-fitted mouthguard.
Mouthguards for kids
Many kids experience a dental injury when they're playing sport.
If your child isn't keen on the idea of wearing a mouthguard, it can be helpful to point out sports idols who wear one. Most popular sports have star players who wear mouthguards. For example, LeBron James and other American NBA players are often spotted with their mouthguards.
Mouthguards can prevent dental injuries regardless of your age, so it's important for athletes of all ages to consider.
Inspection time
Make sure your mouthguard is in good condition. To be certain, ask your dentist to inspect it during a check-up. If it's been damaged when playing, it may need to be replaced.
If the mouthguard is in tip-top condition and you don't experience any major dental work such as restoration, it can last for quite a few years. When it comes to kids' mouthguards, they need to be replaced every 12 to 18 months due to the child's growth and any new teeth that alter the fit.
Remember, if a mouthguard starts to feel uncomfortable or doesn't fit well, see your dentist for help.
Mouthguards FAQ
What Is A Mouthguard? A mouthguard is a plastic cover that fits over and protects your teeth from collision or impact. They are most often utilised in sports that involve a high risk of impact to the face, but can also be used to help…